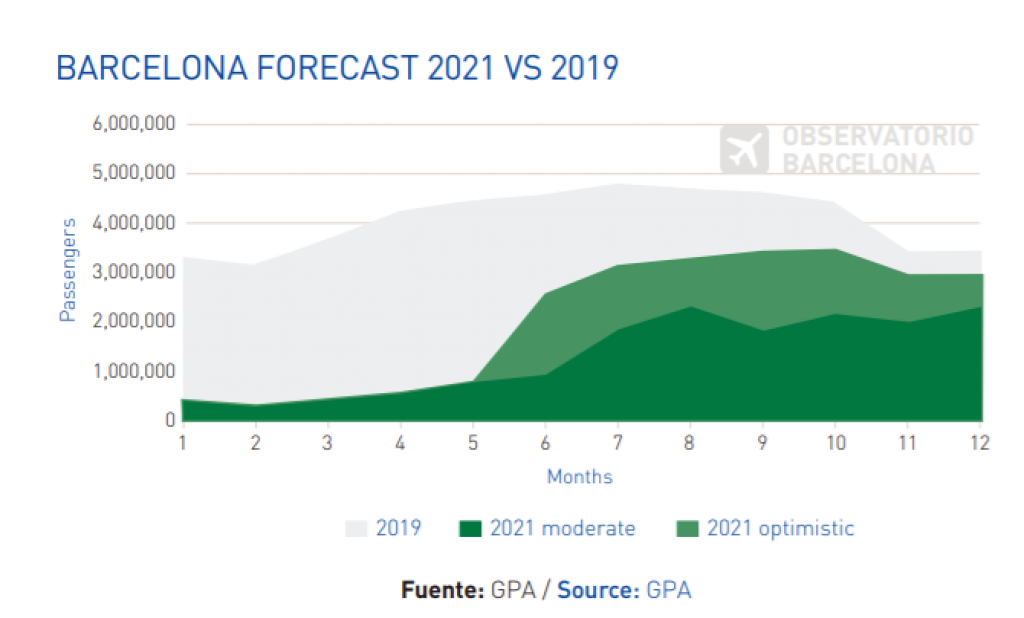 #40 - BARCELONA AIR TRAFFIC INTELLIGENCE UNIT - Quarterly Report July 2021 (2/5)
As a consequence of the impact of the COVID-19 pandemic, the Barcelona El Prat J.T. accumulated 12,739,259 passengers at the end of 2020, representing -75% compared to the previous year. • During the January-May 2021 period, Barcelona has registered a total of 2,455,843 passengers, which represents -87% compared to the same period in 2019.
Eurocontrol has developed different forecasts for the recovery of the aviation sector at European level. The short-term European recovery forecast for the year 2021, predicts between 50% and 79% of 2019 operation levels by December 2021, depending on the advance in the level of vaccination in European countries.
Also according to Eurocontrol, the long-term recovery forecast expects a recovery of operation levels to the ones registered in 2019, between 2024 and 2029.
With regards to the 2021 passenger forecast for the JT Barcelona-El Prat Airport, two scenarios have been defined: the moderate scenario with a reduction of -67% (15.9MPax) and the optimistic scenario with a reduction of -51% (24.1MPax) -percentages and total annual passengers compared to the volume of passengers in 2019. The moderate scenario represents a growth of 25% compared to 2020 while the optimistic scenario represents a growth of 90% compared to 2020.
Source:
Chamber of Commerce of Barcelona
ACI/Aena/ADI/GPA/IATA/MIDT