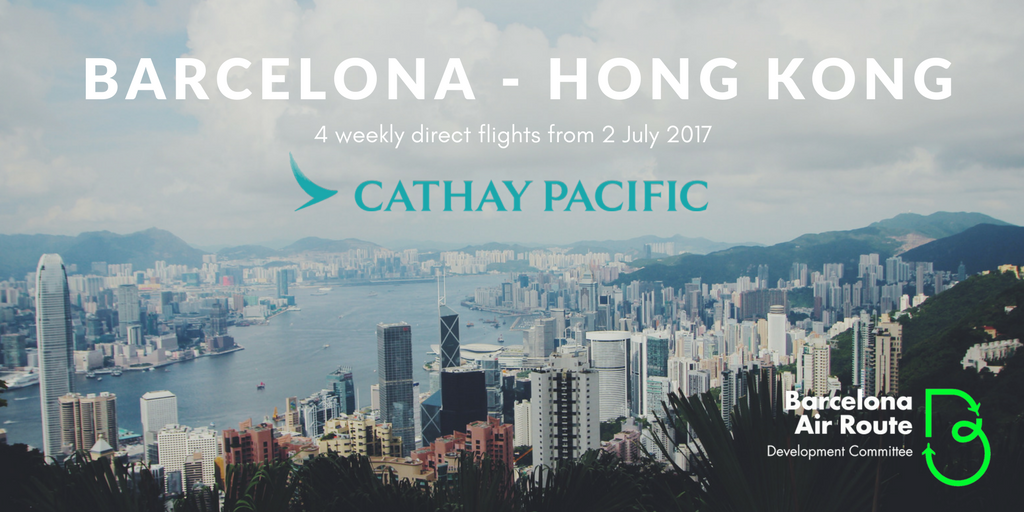 Barcelona links to Hong Kong - New direct air route with Cathay Pacific
Cathay Pacific starts this sunday its new connection between Barcelona and Hong Kong. The new service is the only continuous operation during the summ
Cathay Pacific is one of the leading airlines in Asia, both in passenger and air cargo, and will connect Barcelona and Hong Kong with four weekly flights with the new Airbus 350-900.
Barcelona is consolidating its attractive for the Asian traffic and it's already the main gateway to Spain. The 44.3% of the traffic between Spain and Asia has its origin or destination in Barcelona.
Hong Kong is a key city that reinforces the existing social and economic ties with Catalonia and stimulates new potential.
Cathay Pacific starts this sunday its new connection between Barcelona and Hong Kong. The new service is the only continuous operation during the summer season linking Barcelona and Hong Kong, a major tourist and financial centreof Asia.
The new Hong Kong-Barcelona route will take place from 2 July to 27 October 2017 with the following schedule (local time):
Flight number     Origin Destination   Departure / Arrival         Days of operation
CX322                BCN     HKG        13: 50       /08: 05 + 1     Mon, Wed, Fri and Sun
CX321                HKG     BCN        00: 20       /07: 35           Mon, Wed, Fri and Sun
Note: The number of flights and times may vary. Flights subject to the government's approval
Barcelona Air Route Development Committee (BARDC) has accompanied the creation of this new link by the added value of this new route, which will be connected with a large Asian hub that easily connects with the main cities and destinations not directly served from Barcelona.
The main air traffic market from Barcelona to Asia is China
A connection with this major economic zone provides great value to industrial / business for both regions and will surely stimulate new economic ties and tourism.
Barcelona, ​​with 44.3% of total traffic between Spain and Asia, is the main point of origin and destination of the state. Each year, more than 60,000 passengers fly indirectly between Hong Kong and the Catalan capital through other airports in the world, with an annual growth weighted of 15% in the last five years. This passage joins the more than 1.2 million passengers that each year flies between Barcelona and Asia indirectly in major markets such as Japan, China, Thailand and Indonesia.
Cathay Pacific has a very important role in the world air cargo and Barcelona is a great opportunity for both the company and for the city. According to customs data, Barcelona moved more than 50,000 tons a year between the city and Asia by air. The 27% of total exports from Spain toward this continent comes from Barcelona and more than a third of imports.
Also, there is a high level of "premium" passenger between the two markets, more than 11% of the passengers are traveling in business class or first class, which represents more than one in seven passengers. Such passage promotes the quality and business travellers to the city.
Barcelona is also one of the largest communities of Asian residents, where more than 140,000 Asian residents live in the metropolitan area of ​​the city.
Hong Kong is one of the main destinations for work according to the BARDC Strategic Plan and, therefore, is a destination that has devoted great efforts to develop in recent years.
Source: BARDC Secretariat and Cathay Pacific
Barcelona Air Route Development Committee
promotes Barcelona Airport intercontinental flight