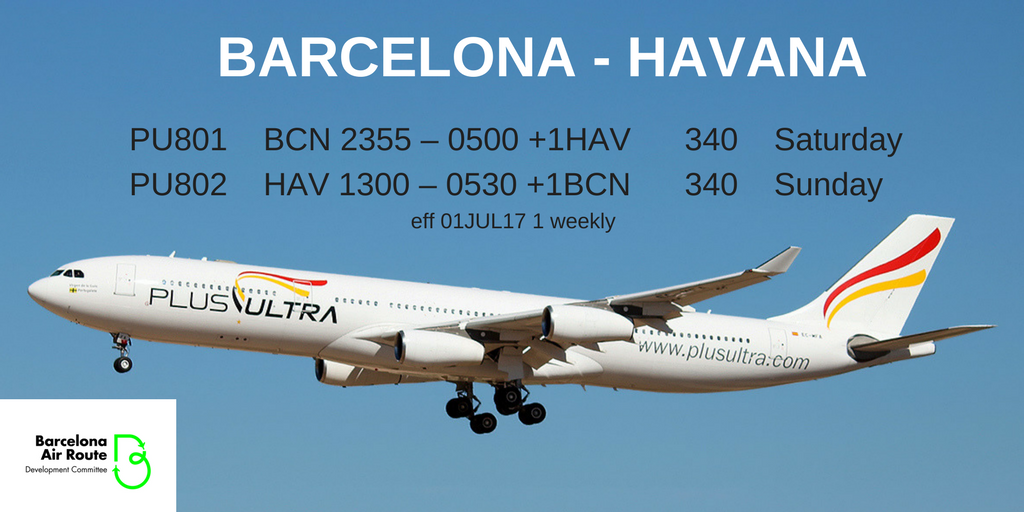 Presentation of new passenger route between Barcelona – Havana
Plus Ultra Líneas Aéreas will present in Barcelona its new Barcelona-Havana route.
Plus Ultra Líneas Aéreas will present in Barcelona its new Barcelona-Havana route, code-shared with Cubana de Aviación. In this way, this route will return to Barcelona two decades after its disappearance. The flight will have a weekly frequency departing from Barcelona to Havana on Saturday nights, while the reverse flight from the Cuban capital will depart on Sundays at 13 PM.
PU801  BCN 2355 – 0500 +1 HAV A340 Saturday
PU802  HAV 1300 – 0530 +1 BCN A340 Sunday
The presentation of this new itinerary will take place tomorrow, June 29, at 17h at the Moritz Factory in Barcelona. The company will hold a press conference in conjunction with the Barcelona Air Routes Development Committee (BARDC), an organization charged with promoting the development of new intercontinental routes from Barcelona, ​​and Cubana de Aviación, a reference airline in the Cuban market. This event will offer data on macro-economics and passenger numbers between Barcelona and Cuba, as well as all the details of this new route.
The event will be hosted by Julio Martínez, Vice President of Plus Ultra Airlines, Mario Rubert, Director of Promotion of the Barcelona city council, Cristian Bardaji, Director of Infrastructure Studies at the Barcelona Chamber of Commerce, Vanessa Requena, Chief of Staff (Aena), Jordi Candela, Director of Aeroports de Catalunya, His Excellency Eugenio Martinez Enriquez, Cuban Ambassador to Spain, Ms. Mabel Arteaga Rodriguez, Cuban Consul in Barcelona, Mr. Ernesto González, Cuban Aviation Manager for Spain and Portugal, Mr. Lourdes Pajón, Commercial Director of Cubana de Aviación, Mr. Jorge del Risco, Director of Operations of Cubana de Aviación and officers that have come to Barcelona from Havana specially for this event.
This new route will be operated with an Airbus 340-300 with capacity for 303 passengers in two classes: Business and Economy. The direct flight will benefit the Cuban colony in Catalonia, where approximately 20,000 Cubans reside, and the travelers from southern France that until now had to fly to Cuba from Paris. Cuba has experienced a tourism boom in recent years, reaching a record of 4 million visitors in 2016 for the first time.
Every year, more than 70.000 passengers fly indirectly between Barcelona and La Havana throughout other connection airports. These passengers will be able to fly directly with the new service. With an amazing direct growth of 70% in 2016 over the previous year, Havana is the second South American unserved destination from Barcelona, only surpassed by Mexico DF (80.000 pax).
Plus Ultra, obtained its Air Operator Certificate (AOC) in July 2015, being the first company to obtain it under the new European norm AIR OPS (ES.AOC.118). Plus Ultra succeeded in establishing the Madrid/Lima route, completing a whole year of regular flights on June 15th. In its ongoing effort to remove barriers between continents, Plus Ultra has made a commitment to recover the Barcelona – Havana route. A bet that is a milestone in the flights from Barcelona, and whose sole objective is to meet the needs of the passengers.
Source: Plus Ultra&CDRA  June 2017
Barcelona Air Route Development Committee
promotes Barcelona Airport intercontinental flights