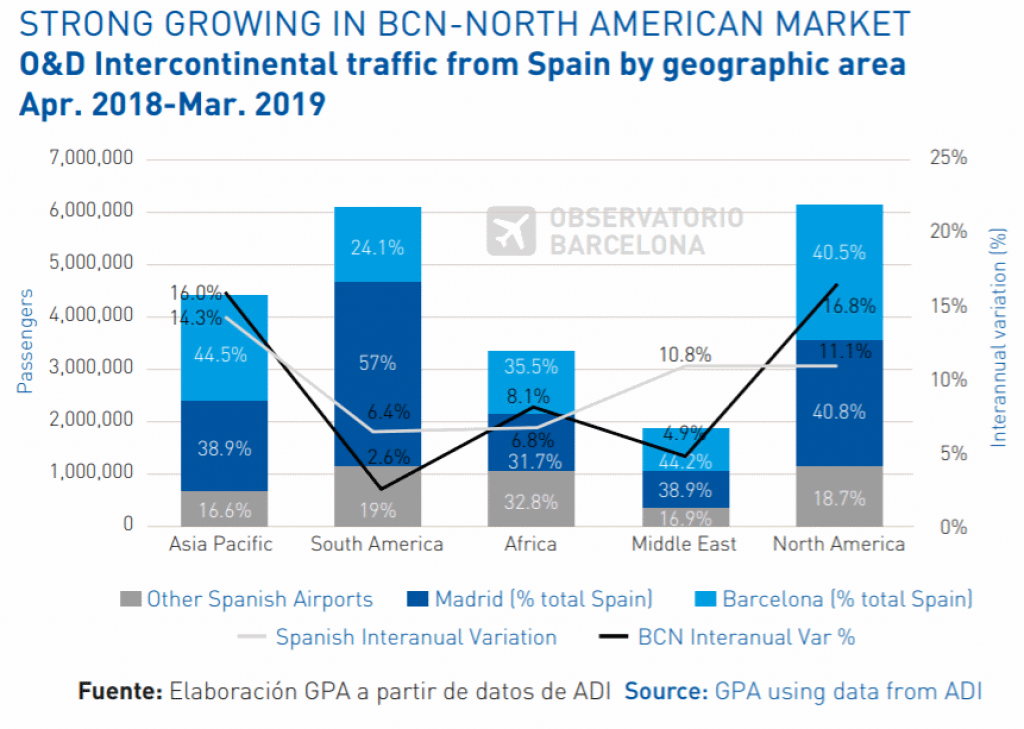 INTERCONTINENTAL MARKET 2018 ANALYSIS
Barcelona has grown strongly in North America with 16.8%
Barcelona has grown strongly in North America with 16.8%, reaching 40.5% of the total number of passengers between Spain and North America (Canada, United States and Mexico). Equalling the volume of Madrid. It also grows significantly in Asia with a year-on-year growth of 16%. It should be noted that Barcelona continues to be the main Spanish gateway for Asian traffic, and also Africa and the Middle East above Madrid airport demand.
Intercontinental traffic in Barcelona shows year-on-year growth in all regions with an average of 9.3%. We highlight a growth of 15% in North America followed by Asia with 10.5%. Intercontinental traffic growth is stable with a CAGR of 11.7% in period 2012-2018. Indirect traffic is still 60% of total intercontinental traffic. There are destinations not covered by direct connections such as Tokyo (191,111 indirect pax 2018), Bangkok (79,906 indirect pax 2018) and Delhi (78,401 indirect pax 2018). One consequence of intercontinental traffic growth is the increase of the aircraft size, in 2018 6% of aircraft corresponded to large or very large sizes (ICAO types H or J).
In summer season 2019 Barcelona increases its intercontinental offer with new destinations to Santiago de Chile (Level) and Mexico City (Aeromexico). In addition, three new routes are also being opened in existing destinations: Chicago (Norwegian), Toronto (Westjet) and New York JFK (Level). Frequencies are increased in 11 existing destinations. Especially emphasize Level increasing Buenos Aires weekly frequencies from 4 to 7, as well as the change of airport from Oakland to San Francisco.
Full edition: http://ow.ly/MNSF30p7VBl
Source: Chamber of Commerce of BCN- GPA /July 2019
Barcelona Air Route Development Committee
promotes Barcelona Airport intercontinental flight